8mm (5/16") Superline Winch Line - 21,700 lbs
8mm (5/16") Superline Winch Line - 21,700 lbs
Shipping:
Calculated at checkout
Out of stock. Expected ship date is 22nd Dec 2017
---
Features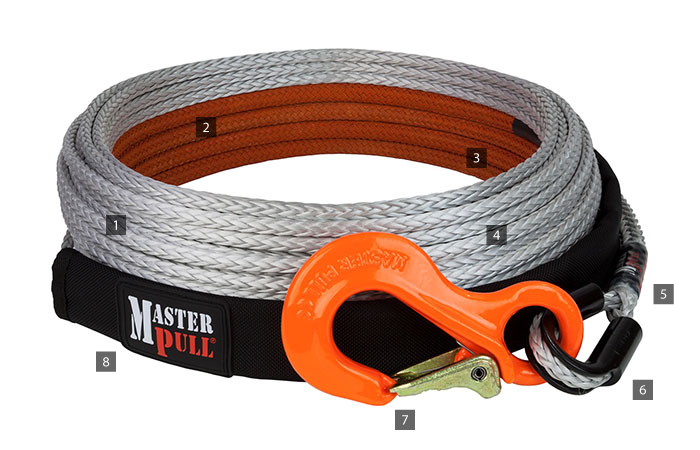 Pre-stretched + heat-treated SK75 Dyneema® fiber for ultimate tensile strength
Bright orange, high heat resistant jacket on drum end offers best protection from drum heat and abrasion. Also indicates the last 12' of line on the drum
Universal drum attachment is low profile and strong
Coated with polyurethane for added UV and chemical resistance
Labeled with breaking strength and diameter
Heavy duty tube thimble for superior eye protection
Both hook options, either Grade 100 or Grade 110, are not only superior quality but very lightweight and strong
Removable Rock Guard included for extra protection against chafe and wear
Specifications
| | |
| --- | --- |
| Diameter | 5/16" (8 mm) |
| Breaking Strength | 21,700 lbs (9,840 kg) |
| Recommended Winch Rating | 8,000 - 10,000 lb (3,630 - 4,540 kg) |
| Material | Pre-stretched + heat-treated Dyneema® SK75 synthetic fiber |
Will This Fit My Winch?
The 5/16" Superline® Winch Line works best with winches ranging from 8,000 - 10,000 lbs. For more information on what length/diameter to choose please reference our Winch Line Guide.
Overview
If your travels take you far off the beaten path, you need to be able to depend on your gear to perform. When it comes to winching, the Superline® Winch Line will not let you down. Made with pre-stretched and heat-treated SK75 synthetic rope, it is the most advanced synthetic winch line on the market.
What makes the Superline® so super? Well first off, it's pre-stretched and heat-treated construction gives it unparalleled strength. In the case of the 5/16" (8mm) Superline, the breaking strength is 21,700 lbs - that's more than 4,000 lbs stronger than our 3/8" (9.5mm) Classic winch line! Not only does this increase safety, but it allows you to install a smaller diameter line on your winch so you save space on the drum and the winch works more efficiently. The Superline® also has excellent abrasion resistance and is coated with a heavy duty polyurethane coating for UV and chemical resistance. Combine that with only the highest quality hardware and high heat resistant Technora drum protection, and you have a winch line that is worthy of the toughest vehicle extractions.
Advantages
Over Other Synthetic Winch Lines
Highest strength synthetic winch line available - 75% stronger on average
Use smaller diameter line without sacrificing strength - either gain winch efficiency or gain winch line length
Less stretch than normal SK75 winch lines
High grade hardware
Spliced in the USA
Over Steel Wire Rope
Safer than steel wire rope
Stronger than steel wire rope
Extremely lightweight makes it easy to use
Floats in water
Torque-free
No more cut hands from wire splinters or burrs
Will not kink like steel wire rope
Will not rust
Size Comparison
The high strength of the Superline® winch line allows you to install a smaller diameter line without sacrificing strength and take up less room on the winch drum. This has two main advantages:
Your winch will work more efficiently. The further the winch line is from the center of the drum, the less pulling power the winch will have. Using a smaller diameter means that each layer of line is closer to the surface of the drum than a larger diameter line would be.
In many winching scenarios it can be difficult to ensure the line is spooled on the winch neatly and the line can get bunched up on one area of the drum. This can allow the winch line to contact the winch housing or winch mounting plate, which can cause damage to the line or the winch itself.
Hover over the graphic below and you can see how much less room a 5/16" Superline® takes on a winch drum compared to our 3/8" Classic winch line. Note that the 5/16" Superline® is even 4,000 lbs stronger!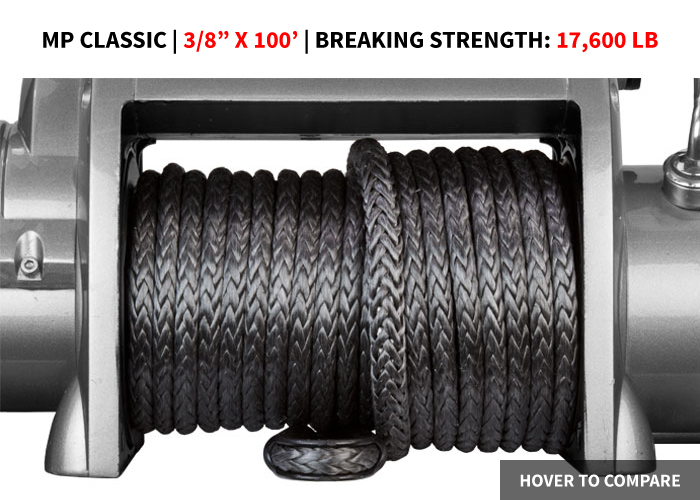 Side Note
Despite all the benefits that the Superline® Winch Line has over steel wire rope, the proper precautions must be taken when using synthetic rope for winching. Synthetic winch lines are more prone to chafe damage than wire rope, so ensure that the winch rope is rigged properly and isn't rubbing on rocks, trees or other abrasive surfaces while under tension. This is why we developed our removable Rock Guard to protect the rope when you can't avoid contact with abrasive surfaces. With proper use and care, the Superline® Winch Line will last just as long, if not longer than a steel wire rope. For more information on maintenance, visit our Synthetic Rope Maintenance page.
---
---
Product Reviews
Don't skimp on Winch Line - Get the best

Posted by Joel Smith on 1st Dec 2016

Put 150' of 5/16" Superline on my Warn 8274 with an upgraded motor and gears. The thinner diameter allows more line on the spool which comes in really handy when you find yourself in a tight spot without much around, or when using a snatch block to rig up multi-angle winching scenarios. Great product, if not the best.

Amamzing product

Posted by Al deOrleans on 22nd Sep 2016

This is by far the best winch line I have ever used. The superior strength, light weight, and ease of use are what make it so much better than everything else out there. Especially over conventional steel cable which can be extremely dangerous.

Highest available quality

Posted by scot hansen on 17th Aug 2016

Very nice product, very high quality, fit and finish look perfect. If you want to change the end to say a thimble from your old rope like I did, make sure the new end has a removable cross pin to allow you to install it easily. I had to unweave and reweave with a Brummel style knot to use my old thimble not a super big deal, but this new rope comes with a heat shrink and small interior nylon sewn stay, not a Brummel knot. Overall this is a very satisfying purchase, my old rope lasted 16 years before it started breaking on hard pulls and I had tied several knots to fix it b-4 finally giving in for a new one.

Awesome!

Posted by Gary on 17th May 2016

What a beautiful product. Well crafted!

Great product

Posted by Unknown on 23rd Feb 2016

I have been using synthetic winch rope for 10 years and love the improvements Master Pull has made, being pre-stretched and heat treated allows stronger, thinner rope, which takes up less space on the winch. This allows the rope to build up more on one side without getting jammed up. The heavy duty spindle protects the vulnerable eye and the velcro rock guard allows the user to easily place it where needed.
---
Customers Who Viewed This Product Also Viewed