Overview
If your travels take you far off the beaten path, you need to be able to depend on your gear to perform. When it comes to winching, the Superline® UltraLite Winch Line will not let you down. Made with pre-stretched and heat-treated SK75 synthetic rope, it is the most advanced synthetic winch line on the market.
UltraLite - Full Synthetic Construction: Unlike traditional winch lines, the UltraLite series does not have any steel or aluminum hardware in the eye. Instead it has a fully synthetic soft eye covered with Dyneema chafe protection, which makes it lighter and safer than a winch line with metal components.
Dyneema Protected Soft Eye: The full synthetic soft eye is compatible with soft shackles and traditional steel shackles. The large opening allows almost any size shackle or hook to be used. With traditional steel thimbles, you are limited on the size of shackle pin or diameter of soft shackle. You can also connect directly to load distributing bridles and open ended tow points, which eliminates the need for additional rigging gear.
Winch Puck: Installed in the soft eye, it allows you to store your winch line flush against the fairlead for both a clean look and protection from the elements. During winching, it slides back so you can connect shackles directly to the eye, which eliminates the need for redundant shackle mounts. Since it is not load bearing, it is made of lightweight, yet strong ABS plastic. This significantly reduces weight and minimizes metal components in the rigging system.
Pre-stretched And Heat-treated: After the Superline® is braided, it goes through a special heating and stretching process that gives it unparalleled strength. In the case of the 5/16" (8mm) Superline, the breaking strength is 21,700 lbs - that's more than 4,000 lbs stronger than our 3/8" (9.5mm) Classic winch line. Not only does this increase safety, but it allows you to install a smaller diameter line on your winch without compromising strength. This saves space on the drum and lets the winch work more efficiently. In some cases you can even install a longer line on your winch if desired.
Safety Strap:To keep hands safe and clear from pinch points, we've included a safety strap to hold onto while spooling the winch line in. It also allows you to pull the line out of the winch easier when in freespool.
Advantages
Over Other Synthetic Winch Lines
Full synthetic construction - lighter and safer
Only synthetic winch line using Black Dyneema® fiber
Highest strength synthetic winch line available - 75% stronger on average
Use smaller diameter line without sacrificing strength - either gain winch efficiency or gain winch line length
Less stretch than normal SK75 winch lines
Spliced in the USA
Over Steel Wire Rope
Safer than steel wire rope
Stronger than steel wire rope
Extremely lightweight makes it easy to use
Floats in water
Torque-free
No more cut hands from wire splinters or burrs
Will not kink like steel wire rope
Will not rust
Size Comparison
The high strength of the Superline® UltraLite winch line allows you to install a smaller diameter line without sacrificing strength and take up less room on the winch drum. This has two main advantages:
Your winch will work more efficiently. The further the winch line is from the center of the drum, the less pulling power the winch will have. Using a smaller diameter means that each layer of line is closer to the surface of the drum than a larger diameter line would be.
In many winching scenarios it can be difficult to ensure the line is spooled on the winch neatly and the line can get bunched up on one area of the drum. This can allow the winch line to contact the winch housing or winch mounting plate, which can cause damage to the line or the winch itself.
Hover over the graphic below and you can see how much less room a 5/16" Superline® UltraLite takes on a winch drum compared to our 3/8" Classic winch line. Note that the 5/16" Superline® UltraLite is even 4,000 lbs stronger!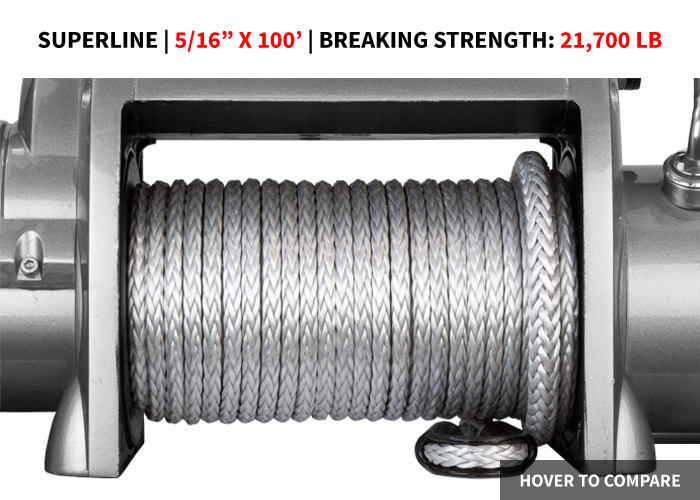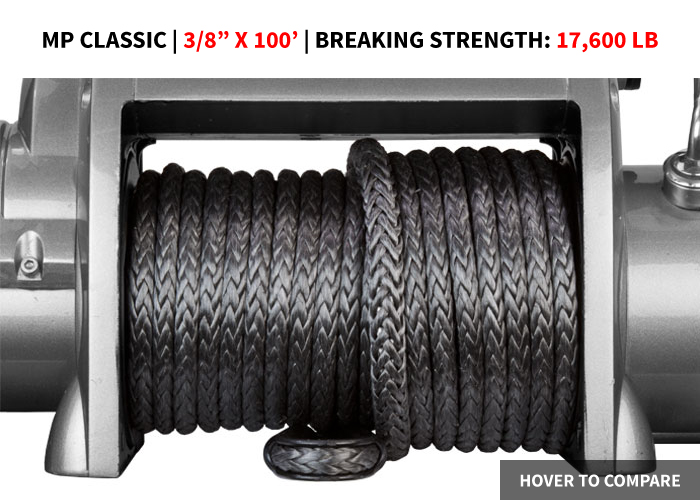 Maintenance
Despite all the benefits that the Superline® UltraLite Winch Line has over steel wire rope, the proper precautions must be taken when using synthetic rope for winching. Synthetic winch lines are more prone to chafe damage than wire rope, so ensure that the winch rope is rigged properly and isn't rubbing on rocks, trees or other abrasive surfaces while under tension. This is why we developed our removable Rock Guard to protect the rope when you can't avoid contact with abrasive surfaces. With proper use and care, the Superline® UltraLite Winch Line will last just as long, if not longer than a steel wire rope. For more information on maintenance, visit our Synthetic Rope Maintenance page.