Mini Mac Rigging Line - 3'
Mini Mac Rigging Line - 3'
Shipping:
Calculated at checkout
---
Features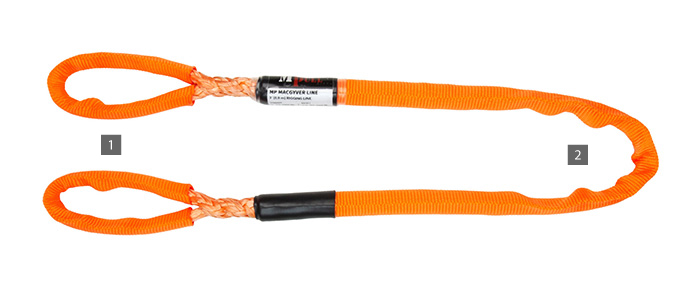 Soft eyes with chafe protection are lightweight and accommodate any size shackle or hook.
Bright orange polyester cover provides excellent visibility and protects the line from dirt, sand and chafe damage.
43,000 lb breaking strength in basket configuration.
Made in the USA.
Specifications
| | |
| --- | --- |
| Length | 3' (0.9 m) |
| Weight | 0.5 lb (0.2 kg) |
| Breaking Strength (vertical) | 21,500 lbs (9,750 kg) |
| Breaking Strength (basket) | 43,000 lbs (19,500 kg) |
| Material | HMPE synthetic fiber | Polyester cover |
Overview
What is It?
The Mini MacGyver Rigging Line, or 'Mini Mac', was designed as a versatile winch line anchor. In many recovery scenarios, such as a rollover, the prefered vehicle recovery points aren't a viable option. Sometimes you need to winch off a rock slider, roll cage, axle or some other unconventional recovery point. The problem arises when you cannot easily attach to these points with just a winch line. The Mini Mac allows you to safely and easily attach to these points on your vehicle without damaging your winch line or the vehicle itself. The compact design of the Mini Mac allows you to attach to hard to reach places that a typical flat strap wouldn't fit.
Made in the USA with HMPE synthetic rope, the Mini Mac is both extremely strong and lightweight. It has a breaking strength of 43,000 lb when in basket configuration and only weighs half a pound! The large eyes have polyester chafe protection and allow for almost any shackle or hook to be attached.
How Does it Work?
The Mini Mac can be used in a wide variety winch recovery and trail fix scenarios. Here are some example of how the Mini Mac can be a useful tool when you most need it.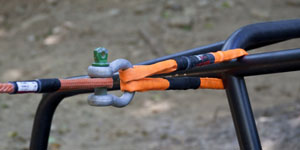 Need to attach your winch line to a roll cage? Just wrap the Mini Mac around a strong section on the cage and connect the winch line to both eyes via hook or shackle.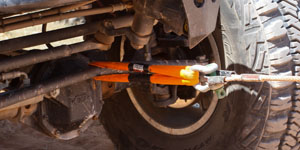 Bend a tie rod on the trail? Attach a winch line to the tie rod with the Mini Mac and winch it straight.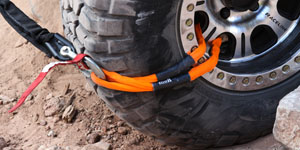 Here the Mini Mac is being used to straighten a bound up wheel after the tie rod mount was sheared off the knuckle.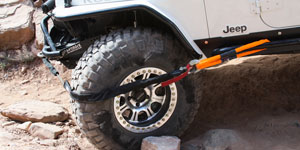 Another shot of repositioning a bound up wheel. The wheel was so bound up it could not be moved by hand. The Mini Mac allowed us to get the wheel straightened up and limp the Jeep off the trail where it could be fixed.
---
---
Product Reviews
Great Product

Posted by Unknown on 2nd Nov 2016

Very functional sling, excellent production, protection and durability

Just got it

Posted by Chris Loomis on 28th Jul 2016

Haven't used it yet but it sure looks good, i like all the labels on the line

Good Stuff!

Posted by Paul Kropp on 14th Dec 2015

I was glad to see Master Pull recently release some new product. The ropes are top notch! I've purchased misc remnant ropes, Kinetic ropes and misc hardware from Master Pull the past year and all products are top quality.

I've used some of these ropes off road. Used them at the airport hangar to load lift/drag stuff. Used Master Pulls snatch blocks rigged to drag a disabled tractor onto a trailer, even load a heavy touring bike with a flat rear tire into a pickup truck once!
I find all kinds of uses beyond my Jeep offroad!

The next time my Warn 9.5cti needs new rope, I'm going to feed it some Master Pull 5/16 Superline.
---
Customers Who Viewed This Product Also Viewed