Classic Winch Line | 3/8" (10mm)
---
Overview
The Classic series is our entry level winch line and a nod to the original winch line we introduced in the late 90's. It is made with genuine Dyneema SK75 fiber and hand spliced here in the USA with only the highest quality materials. There's no inferior, imitation materials used here. Classic Master Pull quality at an affordable price.
Features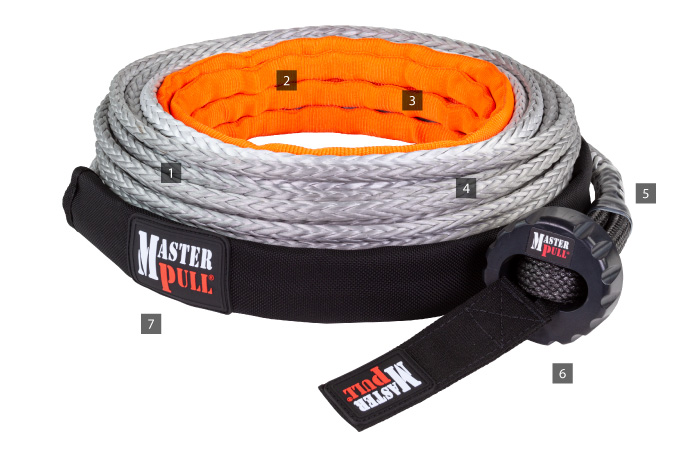 Made with genuine SK75 Dyneema fiber - high abrasion resistance and excellent tensile strength
Heat resistant sleeve on the drum end of the line protects against heat and abrasion
Universal drum attachment is compatible with most winches and makes install easy
Coated with polyurethane for added UV and chemical resistance
Labeled with minimum breaking strength (MBS) and diameter
Multiple eye options: Soft eye and Winch Puck, gusset tube thimble, or tube thimble and hook
Includes removable Rock Guard for additional abrasion protection when needed
Specifications
| | |
| --- | --- |
| Diameter | 3/8" (10 mm) |
| Minimum Breaking Strength (MBS) | 23,500 lbs (10,660 kg) |
| WLL 2:1 Safety Factor* | 11,750 lbs (5,330 kg) |
| WLL 4:1 Safety Factor* | 5,875 lbs (2,665 kg) |
| Recommended Winch Rating | 8,000 - 12,000 lb (3,630 - 5,440 kg) |
| Material | Dyneema SK75 synthetic fiber |
*Safety factor is dependent on application and should be determined by user.
Will This Fit My Winch?
The 3/8" winch line works best with winches ranging from 8,000 - 12,000 lbs. For more information on what length/diameter to choose please reference our Winch Line Guide.
Eye Options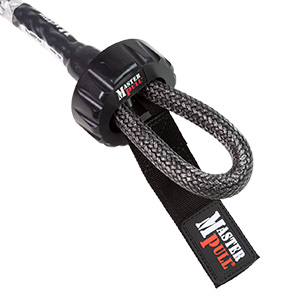 Soft Eye + Winch Puck
Full Synthetic Rigging (FSR) - No steel or aluminum components used in the eye
Safer and lighter
Extremely durable Dyneema chafe material protects the eye from abrasion
Large eye size works with many sizes of steel and soft shackles
Can connect directly to a bridle without using an additional shackle
Stores flush against the fairlead when not in use
Winch Puck is easily removable
Compatible with most winch line shackle mounts when Winch Puck is removed
Winch Puck includes a safety strap to keep hands safe and clear from pinch points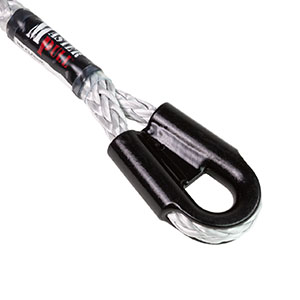 Gusset Tube Thimble
Heavy duty tube thimble with welded gusset will not deform under load
Powdercoated black
Compatible with most hooks and winch line shackle mounts
Can be used with soft or steel shackles
NOTE: Not compatible with most wire rope clevis hooks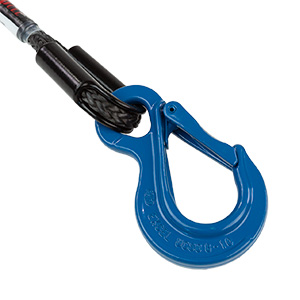 Tube Thimble + Sling Hook
Heavy duty tube thimble
Industrial Grade 100 Sling Hook
Heavy duty safety latch will not bend or break
Large opening (throat) easily fits rigging
Quickest and easiest rigging connection
NOTE: Hook is spliced into the line and not removable
Advantages
Over Steel Wire Rope
Safer than steel wire rope
Stronger than steel wire rope
Extremely lightweight makes it easy to use
Floats in water
Torque-free
No more cut hands from wire splinters or burrs
Will not kink like steel wire rope
Will not rust
Maintenance
Despite all the benefits that the Classic Winch Line has over steel wire rope, the proper precautions must be taken when using synthetic rope for winching. Synthetic winch lines are more prone to abrasion than wire rope, so ensure that the winch rope is rigged properly and isn't rubbing on rocks, trees or other abrasive surfaces while under tension. This is why we include our removable Rock Guard to protect the rope when you can't avoid contact with abrasive surfaces. Proper use and care is essential to ensure longevity of synthetic rope. For more information on maintenance, visit our Synthetic Rope Maintenance page.
---
---
Customers Who Viewed This Product Also Viewed