Superline Winch Line | 1/4" (6mm)
Superline Winch Line | 1/4" (6mm)
Shipping:
Calculated at checkout
---
Overview
If your travels take you far off the beaten path, you need to be able to depend on your gear to perform. When it comes to winching, the Superline® Winch Line will not let you down. Made with heat-set Dyneema® SK75 synthetic rope, it is the strongest synthetic winch line on the market.
The Superline® is made with 12-strand Dyneema® SK75 rope that goes through a heat-setting process which stretches it into a denser, smaller diameter. This process nets large strength gains over normal Dyneema® SK75 rope. Not only does this increase safety, but it allows you to install a smaller diameter line on your winch without compromising strength. Using a smaller diameter will take up less space on the drum and the winch will work more efficiently. In some cases you can even install a longer line on your winch.
The Superline® also has excellent abrasion resistance and is coated with polyurethane for UV and chemical resistance. Combine that with only the highest quality hardware and high heat resistant Vectran drum protection, and you have a winch line that is worthy of the toughest vehicle extractions.
Features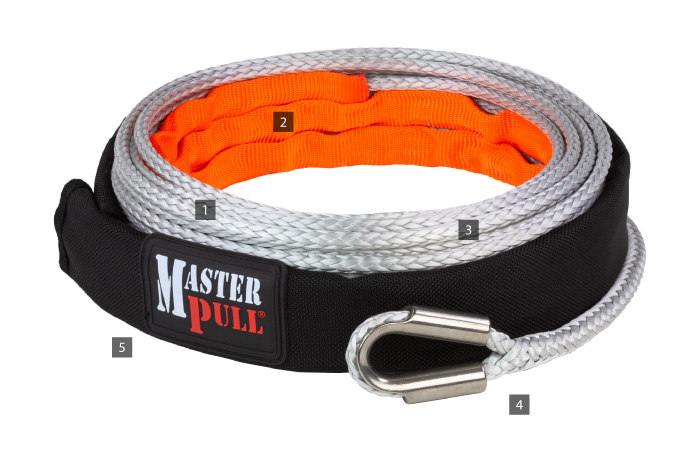 Made with heat-set Dyneema® SK75 for ultimate tensile strength
Heat resistant sleeve on the drum end of the line protects against heat and abrasion
Coated with polyurethane for added UV and chemical resistance
Multiple eye options: Soft eye and Winch Puck, gusset tube thimble, or tube thimble and hook
Includes removable Rock Guard for additional abrasion protection when needed
Specifications
| | |
| --- | --- |
| Diameter | 1/4" (6 mm) |
| Minimum Breaking Strength (MBS) | 15,000 lbs (6,800 kg) |
| WLL 2:1 Safety Factor* | 7,500 lbs (3,400 kg) |
| WLL 4:1 Safety Factor* | 3,750 lbs (1,700 kg) |
| Recommended Winch Rating | 3,500 - 6,000 lb (1,590 - 2,720 kg) |
| Material | Heat-set Dyneema® SK75 synthetic rope |
*Safety factor is dependent on application and should be determined by user.
Will This Fit My Winch?
The 1/4" Superline Winch Line works best with winches ranging from 3,500 - 6,000 lbs. For more information on what length/diameter to choose please reference our Winch Line Guide.
Eye Options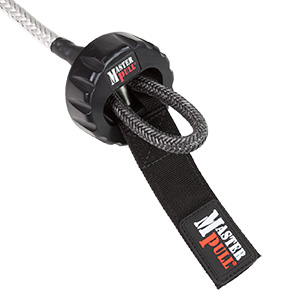 Soft Eye + Winch Puck
Full Synthetic Rigging (FSR) - No steel or aluminum components used in the eye
Safer and lighter
Extremely durable Dyneema® chafe material protects the eye from abrasion
Large eye size works with many sizes of steel and soft shackles
Can connect directly to a bridle without using an additional shackle
Stores flush against the fairlead when not in use
Winch Puck is easily removable
Compatible with most winch line shackle mounts when Winch Puck is removed
Winch Puck includes a safety strap to keep hands safe and clear from pinch points
Compatible with winch line shackle mounts with removal of Winch Puck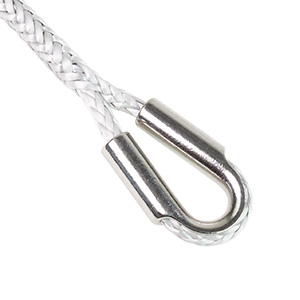 Tube Thimble
Heavy duty stainless steel tube thimble will not deform under load
Can be used with soft or steel shackles
NOTE: Not compatible with most wire rope clevis hooks or winch line shackle mounts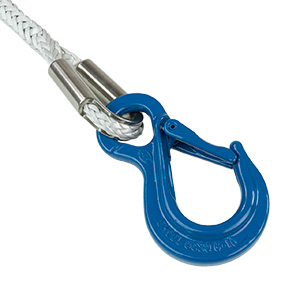 Tube Thimble + Sling Hook
Heavy duty stainless steel tube thimble
Industrial Grade 100 Sling Hook
Heavy duty safety latch will not bend or break
Large opening (throat) easily fits rigging
Quickest and easiest rigging connection
NOTE: Hook is spliced into the line and not removable
Advantages
Over Other Synthetic Winch Lines
Highest strength synthetic winch line available - 75% stronger on average
Use smaller diameter line without sacrificing strength - either gain winch efficiency or gain winch line length
Less stretch than normal SK75 winch lines
Over Steel Wire Rope
Safer than steel wire rope
Stronger than steel wire rope
Extremely lightweight makes it easy to use
Floats in water
Torque-free
No more cut hands from wire splinters or burrs
Will not kink like steel wire rope
Will not rust
Maintenance
Despite all the benefits that the Superline® Winch Line has over steel wire rope, the proper precautions must be taken when using synthetic rope for winching. Synthetic winch lines are more prone to abrasion than wire rope, so ensure that the winch rope is rigged properly and isn't rubbing on rocks, trees or other abrasive surfaces while under tension. This is why we include our removable Rock Guard to protect the rope when you can't avoid contact with abrasive surfaces. Proper use and care is essential to ensure longevity of synthetic rope. For more information on maintenance, visit our Synthetic Rope Maintenance page.
---
---
Product Reviews
Outstanding Product and Customer Support

Posted by m.oldenkamp@gmail.com on 13th May 2019

Order this to replace the wire on my 2013 Commander XL4000 winch. Install instruction where top notch. This cable will last a life time with care. Highly recommend

Best winch line available!

Posted by James on 23rd Mar 2018

Got my new winch line shipped to my door supreme fast and was very happy with the quality of mater pull products.. Well made durable and lightweight.. My only regret was to forget to order soft shackles.. Would definitely be recommending mater pull to all my friends !

superline

Posted by chuck on 3rd Jul 2017

The product is extremely light and compact with unbeatable strength. I am using it as an electric winch cable for my boat trailer. It does not rust or have cable splinters, so is very friendly to handle.

Great Product

Posted by Mark Duggar on 19th Dec 2016

Tried out this winch rope the day after it arrived.. Pulled with no problem. Fast shipping on a great product. I recommend this rope to anyone that need a small diameter rope that is super strong.

Very high quality.

Posted by Unknown on 7th Dec 2016

One of the best winch lines i've seen. I will put it to the test this weekend.

Nice winch line

Posted by Unknown on 19th May 2016

Just wrap end nice and tight with tape when threading through hole on spool, installation is a breeze. Now to try out the strength
---
Customers Who Viewed This Product Also Viewed